Alpaca

Vet Services
Hobby Farm Alpaca Vet Services
Raising alpacas is becoming increasingly popular in the Fraser Valley due to their gentle disposition, even temperament and relatively low maintenance care requirements. They are intelligent, clean and friendly. And for all these reasons, they are a welcome and natural addition to any hobby farm. Despite their relatively easygoing needs, llamas still require a very specific schedule when it comes to vaccinations, de-worming, blood tests and health certifications. Our qualified farm veterinarians can help you keep your alpaca's health on track and show you how to keep complete health records and essential requirements of ownership of this genial camelid. 
Routine and Preventative Care
Vaccinations, routine blood tests, deworming, dental care, hoof trimming, and nutritional evaluations are some of the regular care requirements of your alpaca. Our hobby farm vets provide specialized and thorough preventative care, which is by far the best way to prevent illness and disease in your alpaca. We also work to set you up with the information that you need to rear healthy and happy alpacas.
Annual Alpaca Herd Health Exams
Annual herd health exams are crucial to the management of the herd. This is when our veterinarians get a chance to take look at the flock and evaluate the basic health of your alpacas, including coat and hoof quality, weight, and signs of disease or parasitism. In order to prevent disease, we also evaluate nutrition, housing, deworming, and any indications that the herd is not thriving.
Treatment of Disease and Illness
Alpacas are hardy animals, but even so, they can be susceptible to many of the same diseases as cattle and sheep. The most notable diseases which infect alpacas are enterotoxemia or "overeating disease," tuberculosis, Johne's disease, anthrax, malignant edema, tetanus and both internal and external parasites. Many of these can be avoided with proper preventative pet care, which makes it even more important to have a veterinarian involved in regular care. However, even with the best prevention tactics, things happen, and we are here to diagnose and treat any ailments that impact your alpaca.
Aggressive Alpaca Behaviour Issues
There is a behavioural issue called Berserk Male Syndrome that can happen to some alpacas. Aggressive, unruly behaviour can make a normally docile alpaca dangerous. This is a fixable aggressive behaviour though.  The cause stems from either overhandling by humans or the baby alpaca was taken after from their mom prematurely. This is not a genetic trait.
The alpaca now sees humans as rivals.  Symptoms to watch for this during this behaviour include, staring at you, flipping the tail over their back repeatedly and following you around.  These are signs that the alpaca is not happy with humans. A simple corrective behavioural measure like using a hand pumped spray bottle to spray the alpaca with water will deter the behaviour and help to save their life.  Dangerous alpacas that are not able to be rehabilitated usually don't end well. Understanding the root of the behaviour can help to keep your alpaca happy and healthy.
Reproduction
As with all the other hobby farm animals, we work to support your alpaca herd's needs through the various stages of reproduction, including examination, preparation, maternity care, parturition and postpartum. We also provide complete cria medical support to ensure the success of the next generation of your herd.
Mobile Lab
For larger animals and situations where bringing the animal into the clinic is too difficult, we are proud to offer a mobile vet lab that can come to your farm. Fully equipped, the mobile lab is able to handle your alpaca or herd's needs.
For more information on how we at Langley Animal Clinic can support the health of your alpaca herd, please call Langley Animal Clinic with one of our specialized veterinarians today.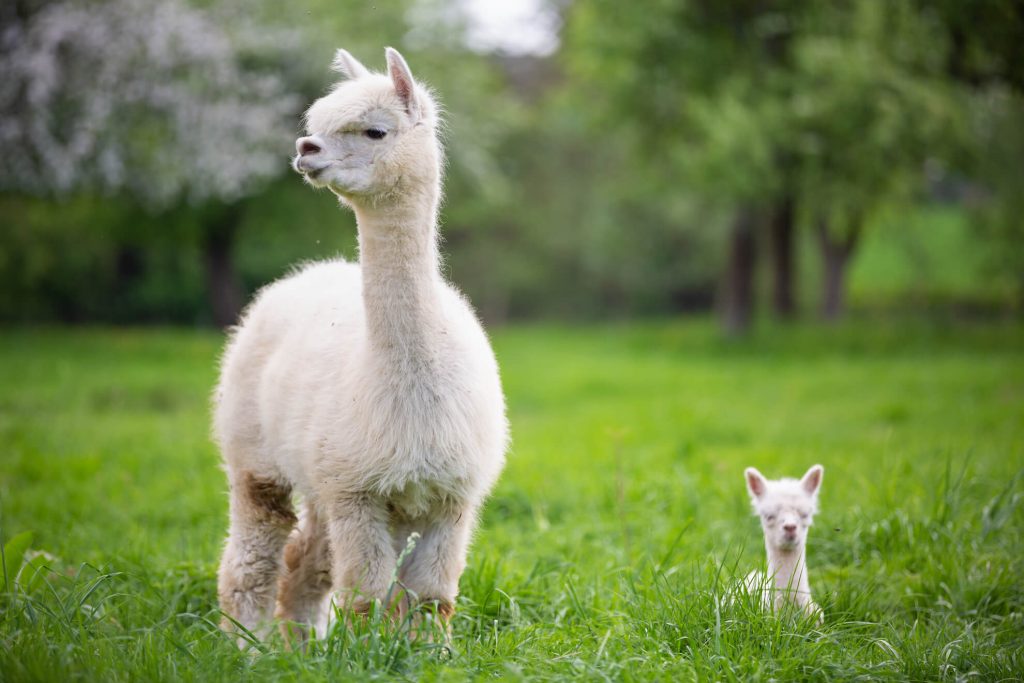 Contact
Langley Animal Clinic
Practice Hour
Langley Animal Clinic