7 Recognizing Signs of Dental Pain in Dogs: A Guide
Langley Animal Clinic
Although proper dental care is an essential part of your dog's wellbeing, it is something that is often overlooked by pet owners. Your dog can experience dental pain and discomfort just as any human might, affecting their quality of life. Being able to recognize the signs of dental pain in dogs will let you know when it's time for a visit to your veterinarian.
1. Signs of Dental Pain in Dogs
2. Behavioural Changes
3. Oral Discomfort Indicator
4. Physical Symptoms
5. Importance of Pet Dental Care
6. Pet Dental Health Tips
7. Professional Pet Dental Cleaning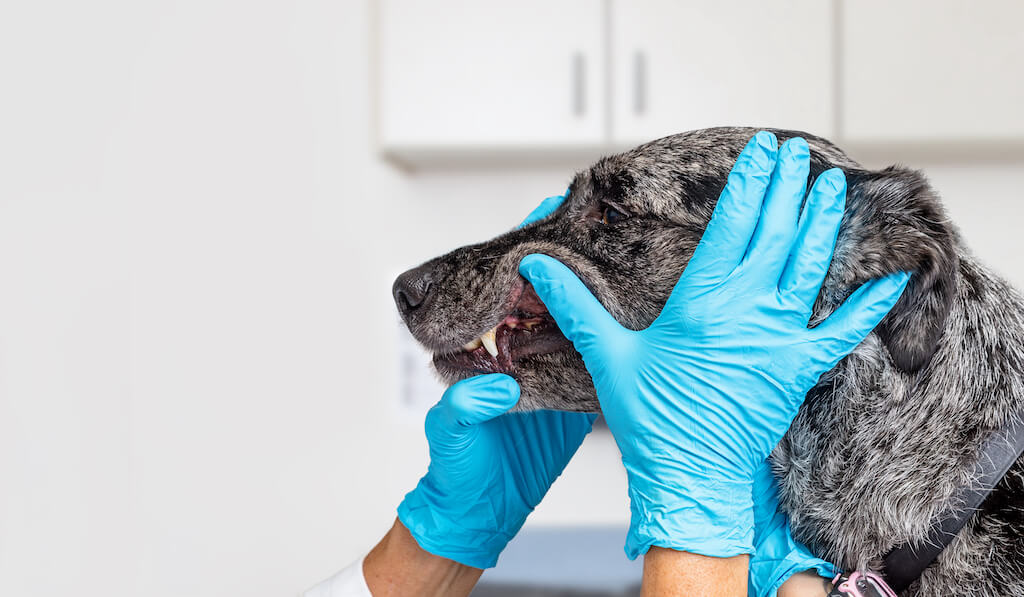 1. Signs of Dental Pain in Dogs
Some signs of dental pain in dogs include a loss of appetite or chewing on one side of the mouth.
Your dog may suddenly seem disinterested in food or hesitant to eat. This may be a result of dental pain making it uncomfortable to chew. Even if your dog continues eating, they may favour one side of the mouth, avoiding the painful side when chewing treats, toys, and their regular food.
2. Behavioural Changes
Your dog may indicate that something is bothering them by pawing at their mouth or face in an attempt to alleviate their discomfort. They may also become irritable or yelp in pain if you touch their face. Some dogs might even show uncharacteristic aggression if you touch near their mouth.
3. Oral Discomfort Indicators
If you notice that your dog has particularly bad breath or is drooling excessively, they may be suffering from dental pain. As with humans, dogs may have gums that become inflamed and bleed easily. It may be difficult to check if your dog is hesitant to let you touch their mouth, but that in itself is another indicator of discomfort.
4. Physical Symptoms
Aside from the appearance of red, swollen gums and increased production of saliva, you may note a buildup of tartar, or the discolouration of your dog's teeth, both of which result from poor pet dental health and can indicate current or impending issues and pain.
5. Importance of Pet Dental Care
Most people are conscientious about their own dental care and that of their children. It's important to apply the same standards to your dog to ensure their dental health and wellbeing. Proper pet dental cleaning can help prevent not only pain and discomfort, but also a host of other health problems such as systemic issues caused by dental infections, including heart, liver, and kidney problems.
Of course, you will also benefit from your dog having fresher breath, making interactions with them more pleasant for you.
6. Pet Dental Health Tips
Ensuring good dental health in your dog can be accomplished with a few simple tips:
Brush their teeth regularly with a toothbrush and toothpaste designed for dogs. Daily brushing will remove plaque and maintain good oral hygiene. Your dog may be resistant at first, but they will soon adapt and may even look forward to brushing.
Provide dental-friendly toys that are designed to promote oral health by removing plaque and tartar buildup.
Visit your veterinarian for regular dental checkups. Your vet will monitor your dog's dental health to detect any potential problems before they become a major issue, allowing for early treatment.
7. Professional Pet Dental Cleaning
Although you should be caring your dog's teeth at home, regular visits to your vet allows for a more thorough dental cleaning. Your veterinarian will be able to remove even stubborn tartar buildup that brushing alone can't handle. Scaling and polishing will keep your dog's teeth clean and healthy, and the regular examination of their teeth allows for early detection of dental issues or abnormalities.
Recognizing dental pain in dogs is important for their health and wellbeing. If you spot changes in their behaviour or eating habits, it may be an indicator of physical discomfort that requires a visit to the vet.
Keep your dog healthy, happy, and free from dental pain by calling Langley Animal Clinic at (604)534-4813, or contacting us online today to book an appointment for their dental check up.