Senior Pet Dental Care: Understanding the Unique Challenges and Needs of Older Pets
Langley Animal Clinic
Proper dental care is just as important for your pets as any other member of your family, but it is sometimes overlooked by even the most loving and attentive pet owners. Senior pets are prone to dental issues that can cause discomfort or pain. If untreated, they can lead to more serious health concerns.
The Importance of Dental Care for Senior Pets

Senior pet dental care plays an important role in maintaining your pet's well-being and quality of life, as they face dental challenges differently from younger animals. Other age-related health conditions can complicate things further. Recognizing their unique needs allows for the creation of tailored dental care for older pets.  Learn about dental care for younger pets.
Common Dental Issues in Senior Pets

Your senior pet may face one or more of these common dental issues, so be on the lookout for any warning signs.
Periodontal Disease
Periodontal disease is caused by the accumulation of plaque and tartar on your pet's teeth. This leads to the gums becoming inflamed and infected. If it is allowed to progress without treatment, it can lead to not only tooth loss, but also bone damage.
Senior pets are more vulnerable to periodontal disease for several reasons, including changes in the production of saliva and a decrease in immune function. Years of improper dental care can also contribute significantly to the progression of this disease, which can potentially lead to damage to the heart, liver, and kidneys when bacteria enter the bloodstream.
 Learn more about Periodontal Disease in pets (American Veterinary Dental College).
Tooth Decay and Cavities
When we think of problems associated with improper dental care, we usually think of tooth decay and cavities. This can occur due to poor oral hygiene, diet, or certain medical conditions. With older pets, erosion of tooth enamel can leave their teeth more vulnerable to decay.
If your pet seems to be having difficulty eating, it may be due to pain from tooth decay. It's important to seek treatment to avoid infection, tooth loss, or a possible abscess, and to relieve pain.
Tooth Loss and Gum Recession
Teeth can become loose or damaged with age, leading to tooth loss. Senior pets also commonly experience gum recession, where the gums pull away from the teeth. These issues can impact their ability to chew, leading to other issues such as weight loss and malnutrition.
Recognizing Dental Problems in Senior Pets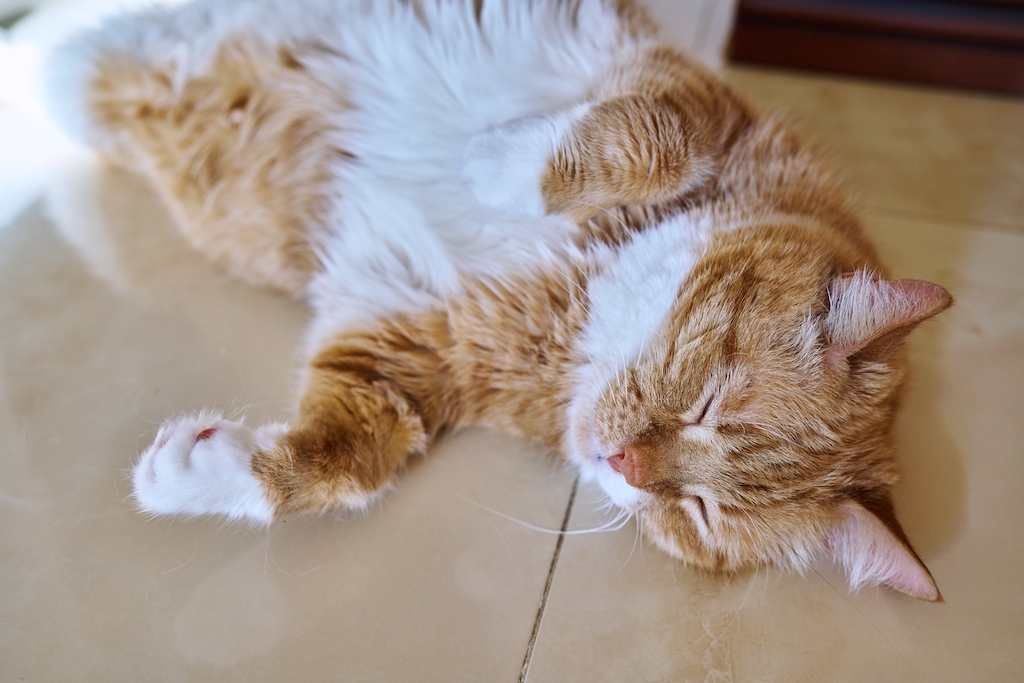 Successfully treating your pet's dental issues begins with recognizing there is a problem. Here are some of the signs to watch for:
Bad Breath
Persistent bad breath is often a sign of dental problems in an older pet. Bacteria and infection in the mouth can result in foul-smelling breath.
Red or Swollen Gums
Another common indicator of dental problems, the gums may appear red and puffy, and may bleed easily.
Difficulty Eating or Chewing
If your pet suddenly becomes reluctant to eat or seems to have trouble chewing, possibly dropping food as they eat, it may be a sign of a dental problem. Your pet may also favour one side of their mouth if a tooth is in pain.
Excessive Drooling
Pain or discomfort in the mouth can lead to an excessive drooling. Your pet may also paw at their mouth or rub their face against surfaces.
The Importance of Regular Dental Check-ups for Early Detection
Regular dental check-ups are an easy way to detect and help prevent dental problems in your senior pet. Your veterinarian can perform a thorough examination to assess the health of your pet's teeth and gums, providing treatment if necessary. With early detection, this will minimize the risk of complications,
Working with a Vet for a Comprehensive Oral Examination
You and your vet are partners in ensuring your pet's dental health. They can determine your pet's specific needs and give you guidance on a dental care routine to follow at home. They will also be able to address any concerns you may have over pre-existing conditions or medications that may be affecting your pet's dental care.
Tailored Dental Care for Older Pets
Your senior pet should have dental check-ups at least twice per year, but they may require more frequent examinations depending on their individual needs. Your vet will determine the frequency of these examinations and how often a professional cleaning should be performed, while you will be responsible for regular cleaning at home.
Brushing your pet's teeth is an important part of your pet's oral hygiene, but if you have never done it before, it will take some getting used to for both you and your pet. Be sure to use a toothbrush and toothpaste designed for pets, gently brushing their teeth in a circular motion, paying attention to the gum line. You may also wish to try some dental rinses and water additives designed to reduce plaque and tartar but be sure to consult with your vet first.
Dental chews and toys are a great means of helping to clean your pet's teeth while keeping them entertained but be sure to choose toys designed for senior pets. Excessively hard or abrasive toys may cause damage to weakened senior teeth.
Pets With Existing Health Conditions

If your pet is taking medication, you and your vet should discuss possible interactions with dental care products and procedures; some medications may interact with anaesthesia, for example. Your vet will review all your pet's medications to ensure that they are safe and effective when combined with dental treatments.
Anaesthesia is often required for dental cleanings, and some pet owners may be concerned about its use for older pets. With proper pre-anaesthetic screening and careful monitoring during the procedure, however, there is little cause for concern. Your vet will recommend the appropriate protocols after evaluating your pet's overall health.
Diet and Nutrition for Senior Pet Dental Health

Most of us grew up hearing that sugar would rot our teeth, so it should come as no surprise that diet and nutrition can affect your pet's dental health. A proper diet can help support strong teeth and gums, reducing the risk of tooth decay and gum disease.
There are dental-specific commercial diets that promote oral health for senior pets. They may have a specially designed kibble texture or added ingredients that combat plaque and tartar buildup. Your vet will help you determine if this is right for your pet and may also suggest supplements that promote oral hygiene.
Avoid feeding your senior pet hard or sticky foods that can damage teeth or get stuck in between. Older pets will find softer foods easier to chew and digest. Explore the best diets for senior pets (American Kennel Club).
Senior Pet Dental Care FAQs

Can Dental Problems be Prevented in Senior Pets?
It may not be possible to prevent all dental issues, but by following a proper dental care routine that includes regular checkups along with care at home, you can greatly reduce the risk and severity of dental issues in your senior pet.
Is Anesthesia During Dental Procedures Safe for Senior Pets?
When the proper precautions are taken, the use of anaesthetic during dental procedures is safe for senior pets.
Are There Effective Alternatives to Brushing for Senior Pets?
Brushing is the most effective means of maintaining your pet's oral health, but some pets do not tolerate it very well. Some alternatives exist, such as dental rinses and water additives, dental wipes, and dental treats, diets, and chew toys. Because these alternatives are not as effective as brushing, regular dental visits take on a greater importance.
How Do I Manage My Senior Pet's Dental Care on a Budget?
Regular dental checkups can save you money by helping to detect issues in their early stages before more costly treatments are required. Proper oral care at home can reduce the need for professional cleanings.
Why Senior Dental Care is Important

We all want our pets to live long, healthy lives. Proper oral care is an important part of maintaining your pet's overall health and can save them from the pain and discomfort of tooth decay and gum disease.
Regular checkups, brushing their teeth, and watching for warning signs such as bad breath and difficulty eating will help ensure that your pet enjoys their golden years in good health and free from pain.